The focus of Dora Goodman Cameras has always been—and will always be—deeply tied to its roots; on Dora and the beautiful creations she designs. Whether it's the hand-crafted leather camera straps, classic cameras re-skinned in luxurious wood veneers, or designing and building stunning 3D printed cameras, one can't help but wonder what else is to come.
However, as the saying goes, "there's no 'I' in team," so we thought this would be a great time to give you all some insight into the crew working alongside her!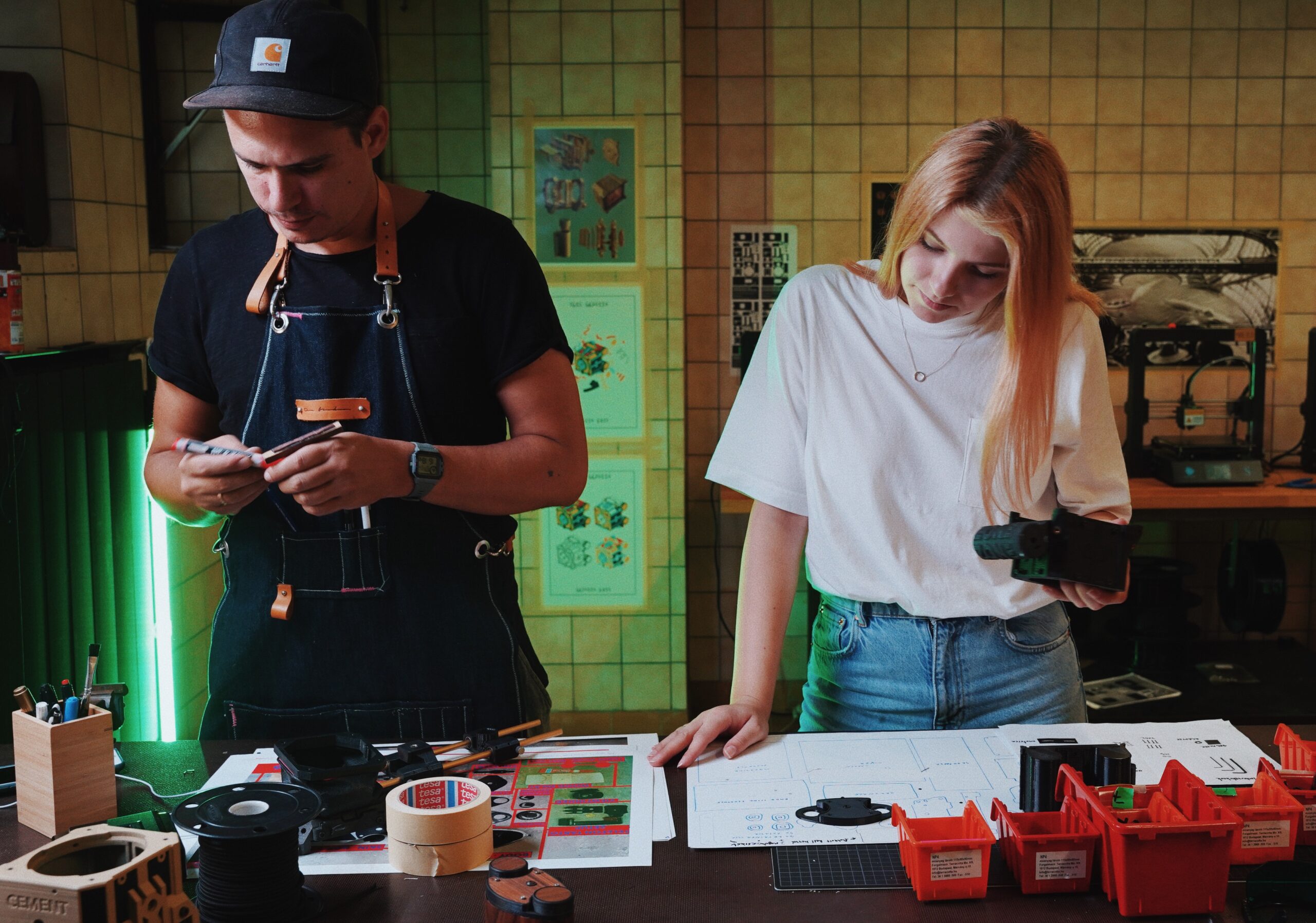 Starting as a 1-person operation, the team has grown to include 7 people, and has even branched out internationally from Budapest, to Bali, and all the way across the world to Montreal, Canada. From the humble beginnings of Dora working late into the night in her living room, to needing more space and moving out to a—let's be honest here—crappy first workshop, to expanding into a team dynamic as demand grew beyond the capabilities of 1 person, Dora and the team have a lot to be proud of.
Now fully settled in to our new cozy workshop and studio space, working for DGC has been a dream-come-true for all of us. We get a chance to pursue our passions, all while working together to create beautiful things and stand behind a brand that we believe in… what more could you ask for?
Being located in Canada, I myself haven't had the chance to visit the studio in person yet, so I've asked the team to give me a rundown on what it's like working in the space.
Now, without further ado, let's take a walk through a typical day in the Goodlab!
Morning
As I'm sure that, like ours, many of your morning routines start with coffee first, hitting up the local coffee shop for take-aways is a must, and gives us some time to hang out and catch up a bit before our daily tasks take over.
Luckily there are a few good second-hand camera shops in the area (Soos Foto being a team favourite), so of course a little browsing time is squeezed in to see if anything new has arrived.  Pro tip when visiting used camera stores: always have a list of bodies, lenses, or accessories you're looking for, because trust me, nothing will make you happier than scoring a big win!  Of course, in our case the shelves would ideally always be stacked with Mamiya Press lenses, RB67 backs, or at least a few classic rangefinders or SLRs that can be given new lives as wood veneered wonders.
Arms full of camera goodies or not, the next stop is to the hardware store to stock up on our favorite paint.  Seeing as 3D printed plastic can sometimes be tricky to work with, we generally stick to Belton Molotov, a spray paint that adheres well and doesn't rub off.
Finally, before heading to the studio, it's off to Café Analóg, an official Lomography hub that is also home to a photo lab and coffee shop all rolled into one cool spot!  Absolute heaven.
This is the time to pick out a few rolls of film for some test shots (Lomo Berlin for the win!), drop off and pick up rolls from the lab, and maybe grab a few snacks for the walk to the studio.
Early Afternoon
Now let's take a second to describe the studio space, the home of DGC. A few blocks away from our workshop in a repurposed building for artist spaces is the Umbrella Collective, a post-production house with a series of multi-purpose rooms, including a main studio area where, just beyond the wooden cupboard, lies anything your heart desires for photo or video shoots.
Complete with two editing stations and a large space to assemble cameras, our personal space is where all—or at least a lot—of the magic happens. This is where videos are edited, designs for cameras and accessories are refined, and pre-assembled and special edition cameras are built. And sometimes, when it's been a long day, this is a space to come up with the craziest ideas as we let our minds wander… which is how the Dora Goodman 3D printed cold brew coffee maker was born!
The main studio area is where all the new camera creations are tested, to make sure there are no light leaks, or any other issues.  With access to all the green screens, accessories, and funky neon lights you can think of, it's a perfect room to get all of the work done on product placement shots, portrait sessions with any willing participants, and videos showcasing our cameras.
As mentioned earlier, we are an international team, which also means dealing with international hiccups… like trying to set up a Google Meet chat amongst team members while juggling 3 very different time zones. With Emil (Director of Content Creation) in Budapest, Reka (Marketing Manager) in Bali, and me (Copywriter) in Montreal, it can be a real struggle getting everyone "in a room" together, but afternoon in Budapest is usually our best bet because it's morning in Montreal. As for Bali, well, I feel for you Reka… bedtime's soon, but not yet!
Even though we communicate a lot by email, these video chats are a great time for us to touch base and discuss upcoming blog posts or articles, and get some time to get a sneak peek at all of the new and exciting ideas coming out… have you seen the LegoZone, I mean, how cool is that?!
Late Afternoon
Taking the chance to get up and move their legs a little, the team heads on over to the workshop space down the street. By now all of the online orders have been received, so this time is dedicated to ensuring everything is ready to be shipped by the end of the day.
Not only is everything we do hand-crafted, but every tiny detail, all the way down to counting out each bolt in the hardware kits and placing stickers on every box is done by hand.  All of the parts for our DIY kits are here, so the whole team pitches in to put the orders together, ready to be picked up by DHL and shipped to you.
The workshop is also home to our 3D printers, which is where we'll spend some time to print the pieces needed to restock our inventory and, of course, try out some of our new ideas. This is a really fun space to be in, its very dynamic and the décor is cozy, and it's (almost) always tidy!
By the end of our day, everyone's definitely looking forward to going home and spending time with friends and family (as I'm sure many of you can relate to!), but there's always a bit of time set aside to chat and organize for the next day's work.  It's nice to take a breather after a jam-packed day to catch up on what everyone's doing or got going on that night, before heading out.
***
While some may have the impression that we run a huge operation in a big, fancy workshop loaded to the gills with expensive machinery, the simple truth is that—as you can see—we are really a modest group of people doing something we love.
The best part about being a small team is the close connection that is formed.  As a team of like-minded creatives, a lot of time is spent bouncing ideas off of each other, trying out crazy inventions, and having fun, which makes it a joy to wake up each morning and go to work for DGC.  On top of it all, we get to interact on a daily basis with our tight-knit community, gathering thoughts and feedback to make the cameras we all love to use; that bond can get lost when dealing with a large corporation, so it's nice to see small businesses, like this one, thrive.
But tomorrow is a new day, and who knows what adventures or beautiful cameras await us so…
Until next time, Happy Shooting!